Residential Care Facility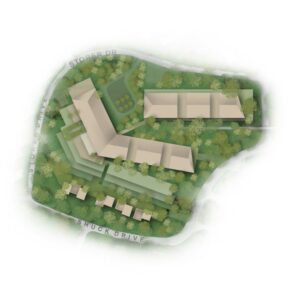 A Residential Care Facility provides an alternative for a growing number of older adults who are looking for the option to live independently initially, with a secure provision for future care, should the need arise.  This provides a needed "age in place" option.
The California State Department of Social Services (DSS) Continuing Care Contracts Branch defines a Continuing Care Retirement Community (CCRC) as a facility that provides a continuing care contract which includes a promise to provide one or more elements of care for more than one year in exchange for the payment of an entrance fee, periodic charges or both (cdss.ca.gov).  A CCRC is a type of Residential Care Facility and is a compliant land use.
The plan includes a 150-residence Residential Care Facility located on Dorm Hill, across the pedestrian bridge from the academic campus and above the central three-tiered parking lot.  The area currently contains two large residential structures and surface parking.
Independent residences typically include one or two bedrooms.  Meals are served as part of the Residential Care Facility programming with dining options within the facility or alternatively across the bridge on the academic campus.  As part of the residential care component, meal service will be provided at least twice a day.
The Residential Care Facility is designed as an integrated environment with a variety of amenities and services.  The facility will be designed to serve adults 55 and older and will offer a variety of housing and lifestyle options.  Residents also can engage in the larger college/university environment.  The facility is in keeping with the local community's desire for low-impact land use alternatives that responds to the changing demographics of the region and adds to the synergistic nature of the larger site.
Services and amenities within the facility will include:
Transportation: Shuttle service will be provided on an as-needed basis for those needing transportation to various medical appointments, grocery shopping, and other service needs.
Laundry: A central laundry facility will provide laundry services for all residents.
Meal Service: A food preparation area to provide meal service at least twice a day as part of the residential care component.
Continuing Care: Facilities for Certified Medical Technical (CMT) personnel provide geriatric care for residents. The Residential Care Facility does not currently include a medical or skilled nursing component.
Indoor and Outdoor Recreation: Existing and planned recreational facilities will be available to all residents.